LADY ROSE COCONUT WAX CANDLE LUXURY TIN
Regular price

$32.00 USD

Sale price

$32.00 USD

Unit price

per
Indulge in the enchanting feminine blend that embodies the aromatic fragrance of a sophisticated, confident, and sultry lady.
The elegant aroma of rose petals fills the air evoking a sense of romance and desire. Creamy vanilla elevates the blend with sensuality while hints of spice enhances arousal, stimulates your senses, and sets the atmosphere for love, intimacy and passion. 
At Sensuous Aromas, we believe in the power of scent to awaken emotions and encourage deeper connections. Our Lady Rose Candle is meticulously handcrafted using premium fragrance oils, carefully selected to create the perfect balance of elegance and allure.
Fragrance Notes 
Top: Plum, citrus
Middle: Black rose, spice
Base: Vanilla 
Net Wt. 6 oz. (171g)
Sustainable Coconut Apricot Wax
Free of artificial dyes, paraben, sulfate and phthalate
Pure essential oil infused fragrances sourced globally
Wooden wick FSC certified 
Recyclable Chic Vessels
we partner with companies that plant a tree with each purchase
Made in the USA 
Candle Care
Allow wax to melt across sides of vessel on the first burn
Never burn candle more than 4 hours at a time
 Trim wick to 1/4 in between burns 
Never leave burning candle unattended 
Never leave alone around children, flammable materials or pets 
Stop burning when candle reaches 1/4 to 1/2 inch to bottom of vessel 
When candle ends wipe vessel with papertowel, discard remaining wax, wash vessel with soapy water and recycle 
Share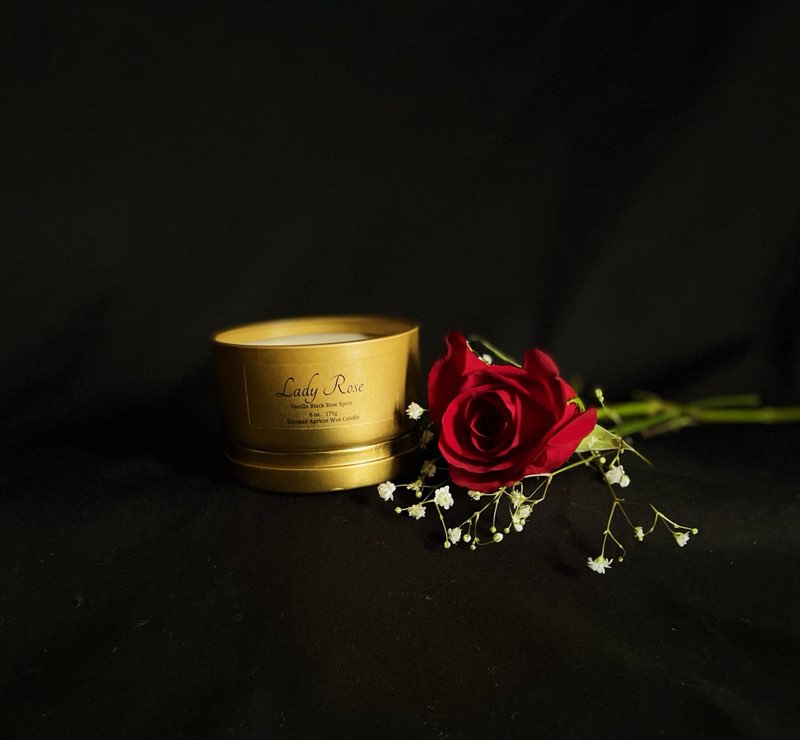 Best candles ever purchased
I like candles however I am in LOVE with my candles 🕯 I purchased. I light the Lady Rose 🌹 candle in my bathroom. I began to smell the fragrance of the candle in my kitchen. I was shocked a small candle has such a huge effect. My second mind blowing experience with Lady Rose is I stopped burning the candle and 6 to 8 hours later my house was still smelling like Lady Rose. I AM SOLD!